Posted on: June 29, 2022
7 Florida Landscaping Ideas To Enhance Your Yard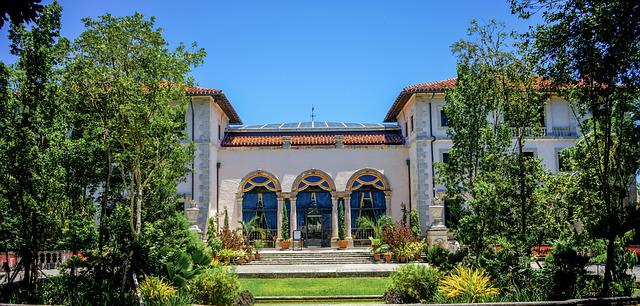 If your home is your castle, then your yard constitutes your castle grounds. You'd love your front garden to look just as wonderful as the house itself – if not better! When it comes to Florida landscaping ideas, there are endless opportunities for you to jazz up your garden.
Whether your landscaping is formal or informal, there is always something else you can do to give it a lift with color or texture.
Let's explore some décor and planting ideas that can help.
Landscaping Design Tips
Before we get into the types of Florida landscaping ideas you can apply, here's a note on design and style principles. When you're creating your luxurious garden, there are a few things you need to consider.
Make sure the colors, tones, and texture of plants and features you select complement your existing structures. Unless you plan to repaint your entire home, don't choose front yard color schemes that will clash with your paintwork and other existing features.
Search Carefully for the Right Features
It can be tempting to buy materials like pavers, plants, fountains, or other stone features that you like on a whim. However, be careful of this as the item may not work well in your garden.
Be sure to work with what you have to create the ideal, colorful backyard space. Marblising also has Specialists available to help you choose the perfect structures for your unique space.
Aim for a Sense of Harmony
Essentially, make sure the house and garden work in harmony. If you have a rather formal style of house in Florida, a less strict garden design may help to soften the effect. However, a particularly informal landscape design may look incongruous.
Going the other way round, an old, informal home design with a modern, very formal garden would look very peculiar.
You want to have a sense that everything fits well together. This will create a balanced, natural feel that will make you and your guests feel completely at home.
Marble Landscaping Décor
Adding marble features such as sculptures, planters, and fountains to your Florida yard can give a sense of the regal to your landscaping. These items are best for more formal garden types, although you can place them in a wildflower bed or patch of pampas grass for a "Secret Garden" atmosphere.
As time ages them with the growth of moss, you'll get that forgotten haven feel from your outdoor space. This is a timeless look that is always successful.
Marble Sculptures or Statues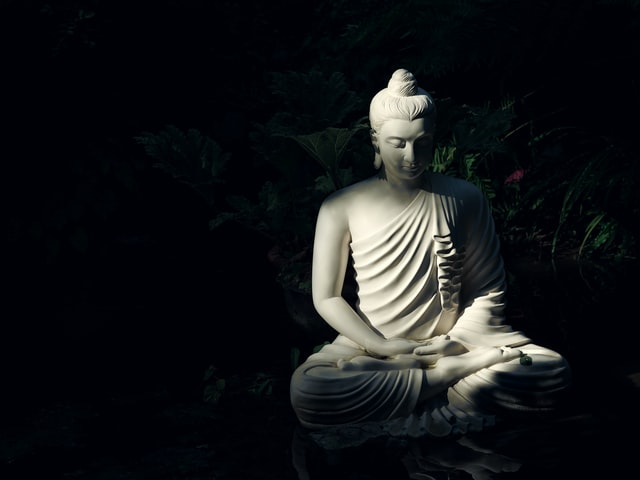 A Buddha head, or whole meditative figures, have become extremely popular garden adornments in the modern age. They are especially great to place if you run yoga, meditation, or other spiritual retreat-type activities from your tropical Florida home.
Other popular marble sculptures include:
Cherubs
Classic animals
Modern Animals
Classical human figure statues
Not everyone is a fan of garden sculptures, but when carefully selected and placed, they can be very beautiful. However, too many sculptures may create a sense of tension and too much stonework. So, less is more when it comes to using sculpture or statues in your Florida landscape design.
Minimalist use of sculpture is especially applicable when it comes to small gardens. Too much of a concrete vibe can make it feel harsh, and not natural.
Feel free to contact a Specialist at Marblising.com with any questions you may have about selecting the perfect structure for you landscape.
Marble Fountains
Adding a marble fountain to your Florida landscape garden is always a win. They add a bit of water feature glamour and summer cool to your landscape. You can typically choose from wall fountains and freestanding ones, in modern or classic designs, depending on your preferences.
If you create a bed for plants around the fountain, it can make your backyard look even more lovely. It's best to choose a spot in the yard where there is plenty of light so the fountain can be clearly seen and admired as a centerpiece of your garden.
Just remember, a working Florida fountain does require some cleaning and maintenance to keep it clear, free of excess moss, and functional.
Marble Planters
Marble shrub and flower planters add elegance and grace to your landscape. Whether you place them in the front, the back, or both, planters are low maintenance and very aesthetically pleasing. You can even use them to enhance your garden without any plants inside.
Furthermore, they are suitable for large and small yards. They can help bigger yard types feel more secure and warm, while also being able to add personality and charm to a smaller yard.
You can also place them in front of entrances, next to driveways, in front of swimming pools, and in any other zone that needs filling in.
Be sure to care for the plants if you decide to fill your marble planters. Gorgeous planters with half dead plants in them can lower the tone of your garden!
Plants and Planting
We can't talk about Florida landscaping without mentioning the types of flora, foliage, and lawn ideas you can pursue in your tropical front or backyard haven. As the south is known to be warm, you need to select your front or backyard plants accordingly.
When landscaping, you need to consider which foliage and plants will grow best in the sun, or in the shady areas of your yard.
Grass
A gorgeous green portion of lawn cover is always a backyard space win.
In the warm Florida, south climate, it can be tricky to select grass for a lawn that will stay healthy in that heat. One of the most commonly used choices is to plant Bahia grass. This is because the species needs little attention to flourish in your yard. This is because it is highly resilient to hot temperatures, and it stays green for longer in dry conditions.
How to Plant Your Grass
The best season to plant grass is in the early summer, as the heat will help the plants to grow. You'll need to prepare the yard and soil before you plant your grass seed. It's best to prep the soil to plant by removing all the weeds, and then mixing the ground with a good fertilizer. You can then cover the seeded patch with more soil, or even with hay, to aid the growth process.
Keep it Watered
You will need to water the plant space often as well to keep it moist, which will help the seeds to grow well. It's a good idea to install an irrigation system so that keeping the lawn space watered, even once it has grown, is relatively easy.
Grass grows best when you plant it where it gets plenty of light. It's best to avoid a shade plant, as this can be quite a job to maintain.
Also, remember to mow often to keep it at a manageable height.
Planting Trees
Trees give relieving shade and flesh out the green on your yard. You have several options when you want to plant a tree in Florida.
Planting Your Trees
It's typically best to buy and plant trees that are already growing, though beyond the seedling stage. These developed plants will likely take better, that is, you'll be less likely to lose them when transplanting.
With some tree plants such as palms, it is possible to transplant fully-grown trees. This can be logistically complex, expensive, and risky in terms of stability until the roots take hold, however.
Choose Tree Location Wisely
It's important to think carefully about where you'll plant a tree. You don't want them too near the home itself, as this can cause many complications. The branches may fall on the roof in storms when the tree is grown, or the roots may affect the foundations and other home utilities.
When planting trees in Florida, it's also essential to consider that the roots often extend way beyond the tree's foliage or canopy. So, be careful not to plant any too close to your house, or near any essential plumbing or electrical lines in the backyard.
Roots can cause havoc and be quite costly and stressful to disentangle from your pipes.
Flowers and Shrubs
As you know, Florida can get exceptionally hot and sticky. So, you need to choose to add flowers, shrubs, and other plants to your landscape that will thrive in yards situated in warmer, tropical climates.
Some of the best flowers to plant in the Florida area to add color to your outdoor yard space include:
Azalea
West Indian Jasmine
Blanket flowers
Pentas
Coreopsis
Fire Bush
Hibiscus
Petunia
Bougainvillea
Rose
Plumbago
Zinnia
Lavender
Caladium
Most of these flowers and plants thrive in the heat of the south Florida climate. The plants are also pretty easy to grow, and many are perennial. Blanket flowers, Lantana, and Coreopsis plants have warmer colored flowers, adding brilliant shades of orange, red, and yellow to your flower beds. Pentas flowers and plants are typically pink, purple, and white, and they can come in red as well.
Azaleas are another beautiful Florida hot-climate shrub type that is easy to maintain. These plants have magnificent flowers that come in a variety of colors.
Plant with the Seasons in Mind
Plants like Hibiscus, Petunia, Bougainvillea, and Caladium are also your quintessential beautiful warm-climate flowers. Bougainvillea plants usually flower best in the fall and the winter season.
If you plant a good range of these plants, you're likely to have a yard full of colorful plants year round.
Flowering Plant Care
Don't forget to prepare your beds well before planting any of these tropical species of flowering plants or shrubs. Water the beds often so the plants can grow well and really fill out with color in the warm south climate.
You'll also need to keep them clear of weeds, especially in the summer.
Pretty Pebbles and Pavers
To accentuate the beauty of your plants, you can also add pathways and beds of pavers or pebbles to your south Florida front or backyard landscape design. Sections of pebble or pavers can pull the composition of a zone together when it feels a bit undefined. You can choose neutral tones, or go for materials with more color.
Pebbles can be used to define beds, or be placed to help water flow from your downspout as well. It's an attractive and functional way to deal with that excess water.
Retaining Walls
Retainer walls of stone or blocks are both functional and attractive. They can help to protect your yard and home from flood damage during heavy downpours.
A retaining wall can also help define a zone in your yard that looks a little haphazard.
Some Last Florida Landscape Thoughts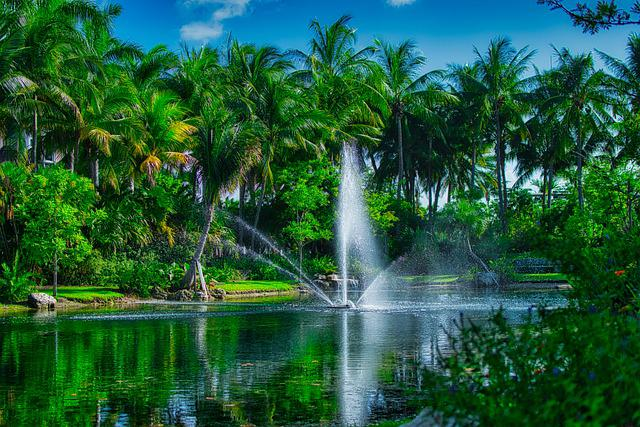 As you can see, the landscape design possibilities for your Florida backyard are endless. Whether your yard is big or small, there is always something you can add to give it more life. Be sure to create a balanced between foliage, shrubs, and stone or wood/log texture, and that the colors, tones, and designs create a friendly overall feel.
Also, don't forget to have a bit of fun while you create your landscaping masterpiece in your yard!
Get in Touch
For more on how to landscape the perfect, colorful south yard, search our website or get in touch with one of our specialists. You can also sign up for a free newsletter via the site for more tips and insights.
Our friendly staff look forward to hearing from you, so we can help you create the landscape of your dreams.