Posted on: April 28, 2021
When you think of water fountains, you might imagine a massive, extravagant fountain outside a hotel or a museum.
Something like The Dubai Fountain or the Magic Fountain Of Montjuic.
But not all fountains are as large and iconic as the above. Most of them are commonly used in private residences' lawns and gardens.
Apart from their elegant and spectacular appearance, these outdoor fountains come in various sizes, shapes, and materials.
Today, we'll go over the different types of outdoor fountains and how to choose the right one for your yard or garden.
Note: This article is packed with outdoor water features that will make your home look water-full! (Pun intended)
Statue Fountains
This is one of the most luxurious outdoor water fountain designs we've come across.
You must've probably seen them in movies or luxurious hotels.
Known for its unique water features, this fountain is an excellent focal point and a great conversation starter.
Here're a few fantastic statue fountains from Marblising that have several different styles!
Single Shooting Fountains
A single shooting fountain can be a beautiful addition to your backyard.
If you can sync them to periodic settings so that the water rises and falls accordingly, you've got yourself a fantastic party entertainer.
You may have to keep the kids away from diving, though!
Elegant Drip-Drop Fountains
Talk about captivating!
This water feature is a multi-tiered fountain with separate water bowls on various levels that drip down, down, down and down…
They are so pleasing and satisfying to look at!
You can use them indoors if you manage to grab them in smaller sizes to decorate your room.
Otherwise, you can get one large fountain and make it the centre of attraction of your outdoor space. It is entirely up to you!
Ancient Greece
Marvellous!
These fountains are carved with gods and goddesses, nymphs, and heroes surrounded by water from all sides.
These water fountains would undoubtedly add a touch of class to your backyard.
4-Tier Fountains with pool
A perfect choice for those seeking a simple yet elegant fountain to decorate their outdoors.
The 4-tier fountain reflects the simplicity of the highest order in your garden. We can say that it is a masterpiece of designer stonework in all sense.
It looks natural on the top and spectacular on the bottom as the base of all tiers beautifully spread out, resembling petals of flowers.
Luminescence fountains
Just like the name suggests, the Luminescence fountain glows in the dark.
The light emitted by the fountain hits the water and bounces back to its environment, making it look magical.
Although this centrepiece is ideal for a hotel mansion or a destination spot, we can still customize it to fit your garden area perfectly.
Antique Fountains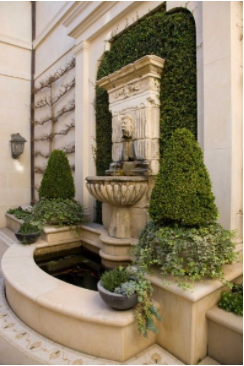 This is what we call the absolute grandeur of royalty and luxury!
If you're a person who likes to add antiques to your collection, then this one's for you.
The degree of intense designing and detailed artwork can be observed right from base to the top.
It's a stunning addition to medium or large-scale landscapes.
Bubbly Fountains
This cute little bubbly fountain calls for attention.
Its calming water feature will keep visitors entertained as they stroll through your backyard.
Plus, you won't have to worry about the lawn being oversaturated with water as it overflows onto the bed of gravel.
Cascading Fountains
The cascading fountain is an excellent extension to your outdoor space.
The calming sound of water cascading to the lower bowl evokes a timeless and profound sense of peace and tranquillity.
If you're looking for something a little more modern, upgrade your home with this cascading stone fountain from Marblising.
Conclusion
Fountains are an excellent cosmetic choice for your garden.
They have many attributes, including bringing a calming atmosphere, attracting domestic life, and sinking unpleasant background noises.
However, Fountains need maintenance both seasonal and year-round to keep them looking and performing their best.
Contact us at Marblising today to learn more about our fountain inventory and to purchase your own quality, sturdy outdoor fountain.