$

100.00
DIMENSIONS
L 220 CM | W 220 CM | H 82 CM
L 220 IN | W 220 IN | H 82 IN
WEIGHT: 200 KG | 200 LBS
L 220 CM | W 220 CM | H 82 CM
L 220 IN | W 220 IN | H 82 IN
WEIGHT: 200 KG | 200 LBS
---
$100.00
See your custom request in your enivronment with AR

Get 3D models in ratio

Ensured global shipping and tracking delivery (in 60 days)

Customization to truly unique products
See your custom request in your enivronment with AR

Get 3D models in ratio

Ensured global shipping and tracking delivery (in 60 days)

Customization to truly unique products
Description
The simple marble slab that forms the seat is heavily guarded by the mythical griffin, a composite mythological creature with a lion's body symbolizing strength and an eagle's head symbolizing wisdom. The griffin was a favorite decorative motif in ancient Middle Eastern and Mediterranean lands. This bench adds an air of history and culture to your formal garden or terrace, and the natural weather-resistant marble makes it a perfect choice for any outdoor setting.
Dimensions
L 220 CM | W 220 CM | H 82 CM
L 220 IN | W 220 IN | H 82 IN
200 KG / 200 LBS
Product Technique
Artist carved marble sculpting
Care Instructions
Dust with soft, dry cloth. Avoid acidic cleaners.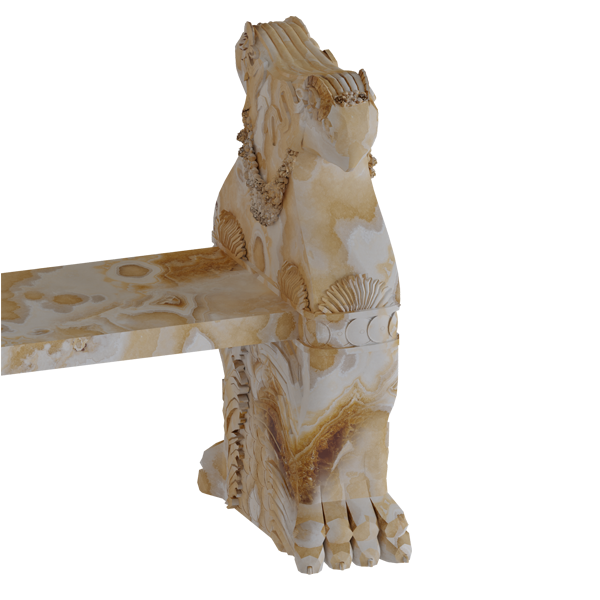 Request Additional Information