$

3,950.00
DIMENSIONS
L 120 CM | W 80 CM | H 200 CM
L 46 IN | W 31 IN | H 78 IN
WEIGHT: 800 KG | 1760 LBS
L 120 CM | W 80 CM | H 200 CM
L 46 IN | W 31 IN | H 78 IN
WEIGHT: 800 KG | 1760 LBS
---
View in 3D
$3,950.00
See your custom request in your enivronment with AR

Get 3D models in ratio

Ensured global shipping and tracking delivery (in 60 days)

Customization to truly unique products
See your custom request in your enivronment with AR

Get 3D models in ratio

Ensured global shipping and tracking delivery (in 60 days)

Customization to truly unique products
Description
This intriguing marble fountain is an example of how creative you can get with our custom-made marble fountains. Place it on a wall in your garden or terrace to add a sense of mystery. Water flows from the mail slot into a beautiful scalloped bowl. You can also place this fountain in a nook in a conservatory or atrium to add a whimsical feel to your setting. The timeless beauty of marble adds to the magical vibe of this beautiful art piece.
Dimensions
L 120 CM | W 80 CM | H 200 CM
L 46 IN | W 31 IN | H 78 IN
800 KG / 1760 LBS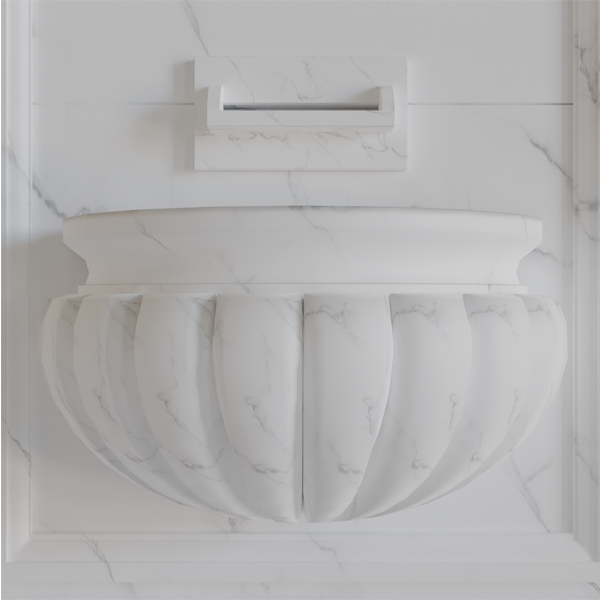 Product Technique
Artist carved marble sculpting
Care Instructions
Dust with soft, dry cloth. Avoid acidic cleaners.
Request Additional Information