Posted on: February 8, 2021
Know the numerous homes of public sculptures in Dubai. It always comes as a surprise because when we walk by, drive across the city or fly by subway, and we barely note these beautiful artworks.
Although some artists vigorously condemn the treatment of art as a commercial product, some of the hospitality outlets in Dubai commissioned mega artworks across the city that have contributed significantly to art recognition and appreciation.
Here are some of the sculptures you might have walked by countless times without learning anything about them:
Giant Sculpture Cube
Al-Khatib Cracknell commissioned the chess-inspired, giant cube sculpture located in Dubai's Zabeel Park and consists of 384 copper panels and mirror-polished stainless steel to shape a Rubik-like cube.
Kinetic Sculptures Octo 2 & 3
It was only last year that Anthony Howe, the American artist, installed his kinetic sculptures in Dubai.
One of the sculptures at City Walk, Octo 3, is known to be one of the world's most immense kinetic stainless steel sculptures, with a height of 7.6 meters and a weight of 3.2 tonnes.
Together Sculpture
The best choice was to return to the exquisite art of sculptures when Downtown Dubai decided to celebrate Arab integrity and grace back in 2011.
The Together Sculptures, commissioned by the Courtyard Gallery Samia Saleh, owner of the Syrian artist Lutfi Romhein, stand at the height of 4.25 meters near Burj Khalifa's entrance.
The male figure was carved in Carrara marble from Italy, resting on a granite base, and the female sculpt was made of black granite from Sweden.
The Sculpture of Sidra
Kuwaiti sculptor Sami Mohamed Al Saleh created the free-form bronze sculpture Al Sidra on Emaar Boulevard next to the Al Manzil Hotel in 2009. The statue was influenced by the region's native Sidra tree, reflecting its stamina and tolerance to harsh climatic conditions. Designed on a foundation of marble and concrete, Al Sidra pays homage to the Arab woman and culture as a whole.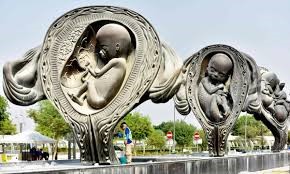 Horse Sculpture 2007
Horse 2007 is a 1.5-tonne bronze sculpture that honors Dubai and the Arab World's equestrian heritage. No wonder it was commissioned by Fernando Botero, a Colombian figurative artist renowned for making horse sculptures.
The sculpture is sized at 310x192x156cm and is situated between Dubai Mall and The Address Downtown in Downtown Dubai, where it is ideally placed with uninterrupted views of Burj Khalifa.
Samia Saleh, who was interested throughout, from the concept to shipping, storage, and final placement, even commissioned the work.
Sculptures of an Arab Camel
The three life-size bronze camel sculptures were unveiled next to Souk Al Bahar in Downtown Dubai in 2014. The artwork took eight months for artist Donald Greig to finalize.
With the adult camel standing at 3m, the calf at 1.9m, and the laying camel at 1.3m high, the camels have different heights.
The three sculptures, in total, weigh 800 kilograms. Before being formed into silicon, cast into wax, dipped in ceramic, and topped with molten bronze, the sculpt were made in clay and polystyrene frames.
Sculptures of Human Waterfall
The Human Waterfall sculptures are located very prominently in the Dubai Mall, unlike most of the artworks on this list, to attract tourists' interest and admiration.
The waterfall passes everywhere the entire height of the mall and the artwork that complete in 2009, which can visual from all four floors.
DPA Architects from Singapore designed human divers' fiberglass sculptures, a texture that produces a complex visual range with the water's rhythmic flow.
Andalucian Sculpture Life-Size
Life-Size Andalucian, sculpted by the young South African Vincent da Silva, is found in Burj Plaza overlooking the Dubai Fountain.
Standing nearly 2 meters high, it represents another celebration of the equestrian legacy of the city.
9. Gathering Sculpture
A series of basalt sculptures by the Spanish sculptor Xavier Corbero is part of The Gathering. The ten systems weigh more than 20 tonnes in total. The project, another of Samia Saleh's commissions, was unveiled in 2011.
Perched against Burj Kalifa's dramatic backdrop, Cornero feels that a special bond is provided by the proximity between the tower and his artwork.
Sculpture of Chorus
Emaar and Korean sculptor Jaehyo Lee debuted the 15-meter-high Chorus sculpture just last year.
3.4 tonnes of steel and 7.6 tonnes of logs were used to sculpt the impressive artwork. Lee assembled the framework over five months, inspired by the rhythm and activity in Gwanghwamun Square in South Korea.
With more than 22 years of visual arts experience, Lee produced Chorus primarily using wood, nails, steel, stone, and natural materials such as branches and leaves.
Sculpture of Wings
The British sculptor Ben Barrell is deeply impacted by his passion for sailing in the Atlantic Ocean, working intuitively with clay or wax in his hands. It affects the ocean and shapes seen in Wings, his artwork.
The inherent charm and grace of a bird's wing or a sea creature's fin can be seen in his 7-meter white sculpture at The Address Boulevard Dubai, like most of his art.