May 20, 2021 Author: Admin
6 Different Ways to Use Marble In Your Home Interior Design
You'll be surprised to see the many ways Marble can be used for interiors. There is no denying that this natural stone is widely famous for its luxe and ability to revamp any room into a gorgeous dream.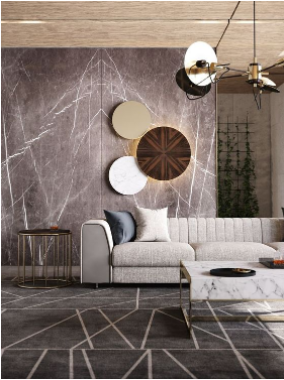 Yes, Marble has the potential to make each space speak comments and succeed at being subtle at the same time.
From Michelangelo's David to Saint Petersburg's Marble Palace, Marble has made its way. Thankfully, the versatility of the stone still has its effects on modern-day interior designers.
What's the first image that pops in your head when you think of a house with Marble decor? Grand hallways with fireplaces? Massive sculptures? Visually appealing fountains?
If that's what you thought, then you're on the same boat as us.
There is no shortage of options when it comes to incorporating Marble designs in your abode. And so, here are a few ways we think Marble will fit best.
1. Marble Countertops
First on our list is the trendy Marble Countertops. Natural Marble has an irreplicable pattern, with each slab being different.
This makes your countertop unique, and the only thing that stays similar is the choice of color, which blends well together.
2. Marble Columns
Open-concept living is a choice for everyone looking to build a house now. To organize the space and make enough use of it, Marble Columns seem to make a good fit.

Choose columns with upright edges and comparatively few embellishing finishes to give the space a more modern feel.
3. Marble Animals
Marble animals are fine and skillfully carved. Placing a Marble Animal will bring a sense of majestic touch and make any area of your interiors look classy.

Including Marble carved animals will catch the eye of any observer.
4. Marble Accent Walls
This is one of our favorites! Often not used for wall decor, Marble actually creates a great look for any pad.

Accent walls made up of Marble can be used for a small area, a single room, or even the entire room.
The patterns bring a minimalist look without having to renovate or make significant changes to the existing decor.
5. Marble Fireplaces.
Because of its durability, Marble can be used as a fireplace as well.
Fireplaces are said to create a vibrant yet cozy atmosphere, which is everything a house needs.
And Marble fireplaces are easy to clean and maintain. A quick wipe with a moist cloth will keep it looking sharp. Investing in a fireplace will make an excellent decision for your interiors.
6. Marble Stairs.
Marble staircases can leave a lasting and influential effect. They reflect sophistication no matter where they are located.

It serves to be a classic example of the mix between traditional and contemporary aesthetics. The best part is that you don't have to worry about the stairs wear and tear, unlike timber.
Those were the few ways you can make some room for Marble in your interiors. The positive thing is that Marble never disappoints!
If you liked any of the ideas above, go check out our vast range of Marble products that you can customize to the likes of any property! See you there!