November 3, 2023 Author: Evelyn Brown
Mastering the Art of Desert Scaping: A Comprehensive Guide to Blending Desert and Landscape Design
The world of landscaping is ever-evolving, reflecting a heightened focus on eco-friendliness and adaptability to local climates. Among these changes, desert scaping has emerged prominently. Merging water-saving principles with aesthetic allure, desert scaping seamlessly integrates with conventional landscaping techniques. Dive into the art of combining these styles for an outdoor oasis that's both stunning and sustainable.
Grasping Desert Scaping Fundamentals
To truly appreciate the blend of desert scaping and traditional landscaping, one must first grasp the essence of desert scaping. Often termed xeriscaping, it's a strategy tailored for arid conditions, emphasising water conservation, reduced grass expanses, and the incorporation of native flora. The goal is straightforward: craft an eco-friendly exterior that flourishes with minimal upkeep and water usage.
Desert Scaping Meets Landscaping: Crafting The Ultimate Outdoor Harmony
Embracing Indigenous Flora
Mingle desert-resilient plants like succulents, cacti, and drought-resistant shrubs with standard landscaping greenery. This creates a visual feast. Group plants based on their water necessities to make irrigation more efficient.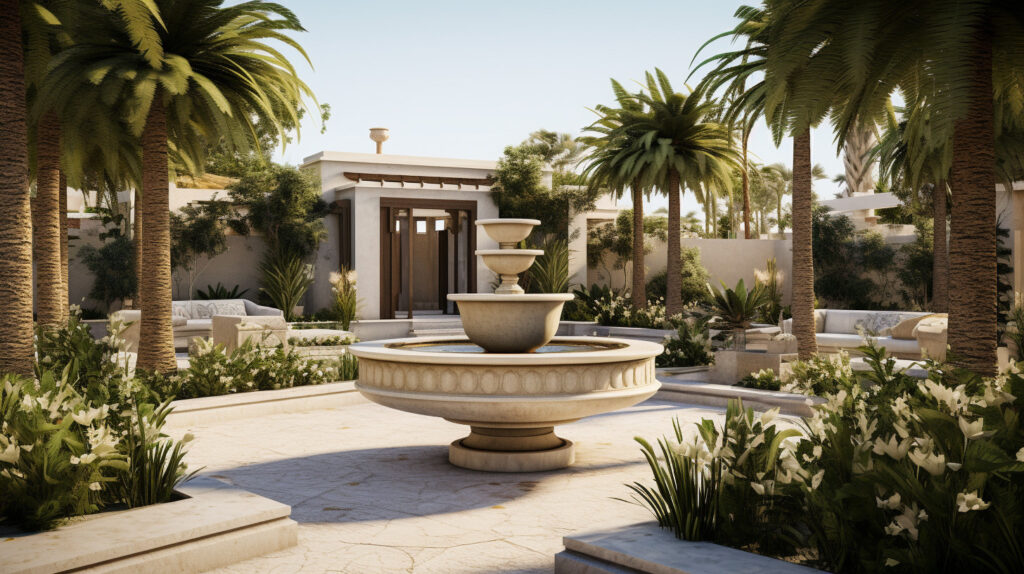 Strategic Zoning
Incorporate zones to seamlessly blend both styles. Imagine a verdant, flower-filled front yard transitioning to a desert-inspired backyard filled with succulents and ornamental rocks.
Captivating Focal Features
Intertwine elements from both worlds by introducing focal features. A water element surrounded by desert greenery, for instance, can serve as an attention-grabbing centrepiece.
Intricate Hardscaping
Hardscaping elements are the binding agents between desertscaping and landscaping. Think of pathways, patios, and decorative rocks, which not only define areas but also enhance visual allure. Utilising local stones or desert motifs amplifies the desert vibe.
Play with Hues and Textures
Infuse vibrancy with colourful desert blooms and garden adornments, contrasting brilliantly with the subdued desert backdrop. A medley of textures—like silky sands, coarse stones, and sharp cacti—enrich the setting.
Masterful Layering
Strategically position plants at varied elevations for a landscape teeming with depth. Pairing ground-level succulents with towering trees gives a multi-levelled aesthetic.
Optimised Watering Techniques
The crux of merging both styles lies in proficient irrigation. Tools like drip systems ensure precise watering, curbing waste.
Rethinking Lawns
Trade traditional grassy expanses for drought-adaptable ground covers. These alternatives mirror the lushness of lawns but stay true to desertscaping's ethos.
Conclusively, uniting desert scaping and classic landscaping, while demanding meticulous planning, yields an exterior that's both aesthetically and environmentally harmonious. It's a testament to the desert's splendour and the luxuriance of age-old landscapes. For professionals in the field, tuning into the client's vision and understanding local terrains and water conservation methods are pivotal for project triumph.
For further insights on desert scaping and traditional landscaping or to bring this fusion to life, Marblising awaits. Check out our natural stone products at https://marblising.com/