July 7, 2023 Author: Michelle Simpson
Grand Wall Fountains: 7 Stunning Styles for Your Garden in Dubai
Grand wall fountains are a stunning landscaping feature that can add a touch of elegance and luxury to any garden in Dubai. With their striking designs and calming sound of running water, grand wall fountains are perfect for creating a relaxing and tranquil outdoor environment. In this guide, we'll explore 7 stunning styles of grand wall fountains for your garden in Dubai, from traditional to contemporary designs.
Classic Italian Style
Reminiscent of Italy's grand Renaissance, this quintessential style remains a coveted choice for grand wall fountains. Expect an ensemble of finesse and complexity in its design, displaying ornamental adornments of cherubs, lions, and other artistic elements, aligned around a central basin, and surrounded by numerous tiers of water flowing down the wall.
Modern Minimalism
Offering an alternative modern aesthetic, the ethos of modern minimalism is encapsulated in its name. This captivating style is noted for its purity and unadorned geometry. Usually showcasing a solitary basin, it imparts a streamlined and urbane appearance. Materials such as concrete, metal, or glass could be utilized to embody this aesthetic.
Moroccan Influence
Immerse yourself in the exotic elegance of Morocco with this captivating style that brings a dash of the Orient to your garden. The typical designs feature intricate patterns and motifs, as well as a central water container surrounded by numerous cascading water tiers. The use of mosaic tiles or stucco could be employed to achieve this aesthetic.
Asian Inspired
For an atmosphere of tranquillity and serenity, an Asian-inspired, grand wall fountain could be your perfect fit. This style generally follows minimalist principles and incorporates elements like bamboo or other organic materials. The flow of the water might be orchestrated to mimic a waterfall, enhancing the overall peaceful ambiance.
Contemporary Elegance
For a modern twist on sophistication, a contemporary, grand wall fountain could be a remarkable selection. This style is characterized by its sleek geometry and uncomplicated design, which usually incorporates a single basin. To achieve this look, one might opt for materials such as stainless steel, glass, or polished stone.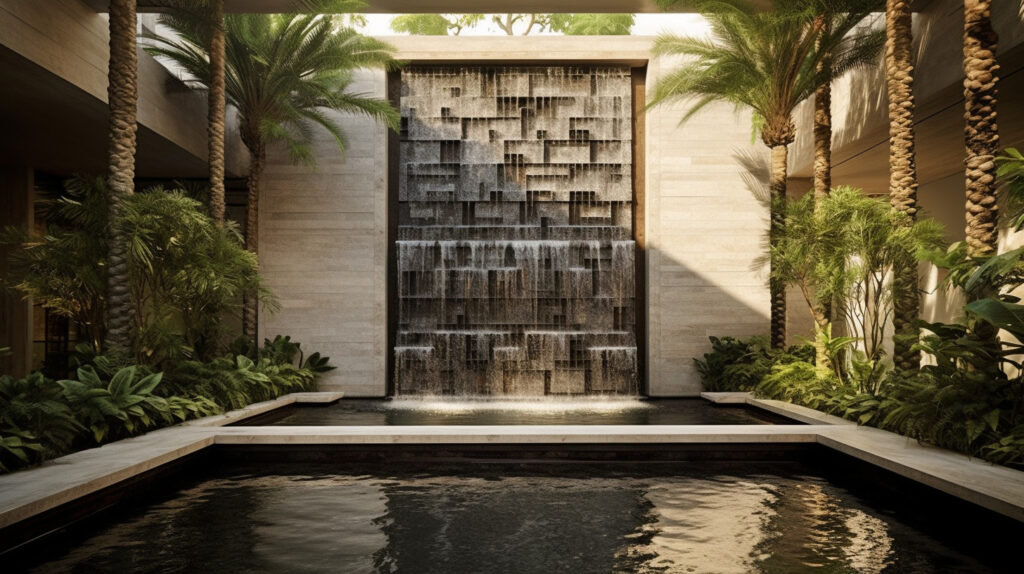 French Influence
The allure of Baroque and Rococo architecture is beautifully incorporated in the French-influenced style of grand wall fountains. Expect elaborate embellishments like scallop shells, cherubs, and other intricate features. This design features numerous tiers of cascading water surrounding a central basin.
Rustic Charm
To infuse your garden with a hint of the rustic, a stone or rock façade for your grand wall fountain could be the ideal choice. This style exhibits simplicity in its design, usually featuring a solitary basin and natural elements such as boulders or river rocks. The flow of water can be devised to mirror a natural waterfall, augmenting the overall rustic charm.
Conclusively, grand wall fountains can bring a measure of elegance and opulence to any Dubai garden. Ranging from the Renaissance grace of Italy to contemporary aesthetics, a variety of styles are at your disposal, catering to diverse tastes and preferences. Selecting a majestic garden cascade requires careful consideration of your outdoor space's overall style and theme, in addition to the materials and water flow design employed. By considering these elements, you are on your way to crafting a breathtaking and tranquil outdoor haven that will be a delight for all guests to appreciate and enjoy. Contact Marblising to explore our curated selection of custom-made natural stone grand wall fountains.