November 8, 2023 Author: Deana Martinez
9 Innovative Ways to Incorporate Water Features in Dubai's Malls
Dubai, known for its majestic skyscrapers, vast deserts, and luxurious shopping centres, offers a unique backdrop for blending modern design with elements of nature. One of the most captivating ways to do so in a retail setting is by incorporating water features. These can transform a mall into an oasis of serenity amidst the hustle and bustle, creating an enchanting experience for visitors. Here are nine compelling ways to integrate water aesthetics into a Dubai mall: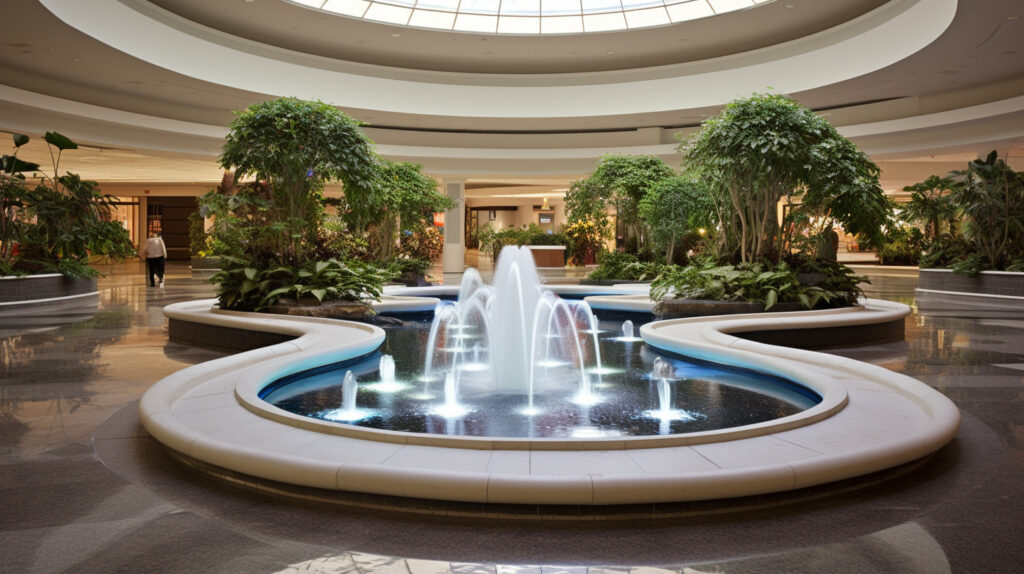 Entryway Water Walls: Greet visitors with the soothing sight and sound of water as they step into the mall. Water walls, flowing seamlessly from ceiling to floor, make for a grand entrance, setting a tranquil mood right from the beginning.
Interactive Fountains: Make the mall experience more engaging with fountains that respond to human interaction. Whether they shoot water as people approach or change colours with touch, these fountains can serve as a playful attraction for families and children.
Indoor Waterfalls: Imagine walking through the mall and being serenaded by the gentle sounds of cascading water. Indoor waterfalls, whether tall and dramatic or short and subtle, can be an architectural highlight, drawing visitors towards them.
Koi Ponds: Add an element of life with beautiful koi ponds. Perfect for relaxation zones, these ponds can be surrounded by seating areas, allowing visitors to watch the colorful fish swim by as they unwind.
Themed Water Features: Align with Dubai's rich history and culture by designing water features that narrate a story. Whether inspired by ancient Bedouin traditions or modern Emirati art, themed water attractions can make the mall experience educational and immersive.
Dancing Fountains: A spectacle to behold! Fountains choreographed to dance in tune with music and lights can become a central attraction, drawing crowds at specific times to witness the performance.
Sculptural Water Features: Marrying art with the fluidity of water, sculptural features can serve as both focal points and discussion starters. Depending on the theme of the mall, these could range from abstract modern art to intricate traditional designs.
Reflecting Pools: Often overlooked, reflecting pools offer a serene environment and can magnify the beauty of the surrounding architecture. Perfect for open areas or courtyards, they provide a calm space for visitors to contemplate and enjoy.
Rain Curtain: Introduce a sense of magic with a rain curtain, where water droplets fall from the ceiling in a controlled and rhythmic manner. It's not just a feature to look at, but one to walk through, offering a refreshing respite from Dubai's heat.
Conclusively, incorporating water features in a mall setting not only elevates its aesthetic appeal but also enhances the overall experience for visitors. By merging the charm of water with innovative designs, malls in Dubai can position themselves as more than just shopping destinations; they can become hubs of relaxation, entertainment, and wonder.
Check out our natural stone water features at https://marblising.com/