May 19, 2023 Author: Admin
7 Types of Luxury Fountain Driveways to Elevate Your Property
A beautiful driveway is not just functional, it's also a statement piece that sets the tone for your property. And what better way to elevate the look of your driveway than by incorporating a luxurious fountain? Here are seven types of luxury fountain driveways to inspire your next landscaping project.
Classic Marble Fountain Driveway
Marble is the epitome of luxury and sophistication, and using it to create a fountain driveway is no exception. Its timeless beauty and durability make it an ideal material for an entrance fountain that will stand the test of time. A classic marble fountain driveway will create a grand entrance to your property that will impress your guests for years to come.
Rustic Sandstone Fountain Driveway
If you're looking for a more natural and earthy look, then a rustic sandstone fountain driveway might be the perfect fit for you. Sandstone is a beautiful, organic material that creates a relaxed and inviting atmosphere. Its natural texture and colour variations make each sandstone fountain unique and will add a touch of personality to your driveway.
Contemporary Stainless Steel Fountain Driveway
For a more modern and contemporary look, a stainless steel fountain driveway is a perfect choice. It exudes sleekness, elegance, and sophistication. The reflective surface of stainless steel creates a mesmerising effect when the water cascades over it, creating a stunning visual display that will leave a lasting impression on anyone who visits.
Bronze Fountain Driveway
Bronze is another elegant and timeless material that adds a touch of class to any space. It creates a sense of history and tradition, while also being highly durable and long-lasting. A bronze fountain driveway can be customised to match any architectural style, from classic to contemporary, making it a versatile choice for any property.
Minimalist Concrete Fountain Driveway
For those who prefer a more understated look, a minimalist concrete fountain driveway is an excellent choice. Concrete fountains are simple and sleek, and their clean lines create a minimalistic and contemporary look. While it may not have the opulence of marble or the warmth of sandstone, it offers a sense of simplicity and elegance that can be appreciated in its own right.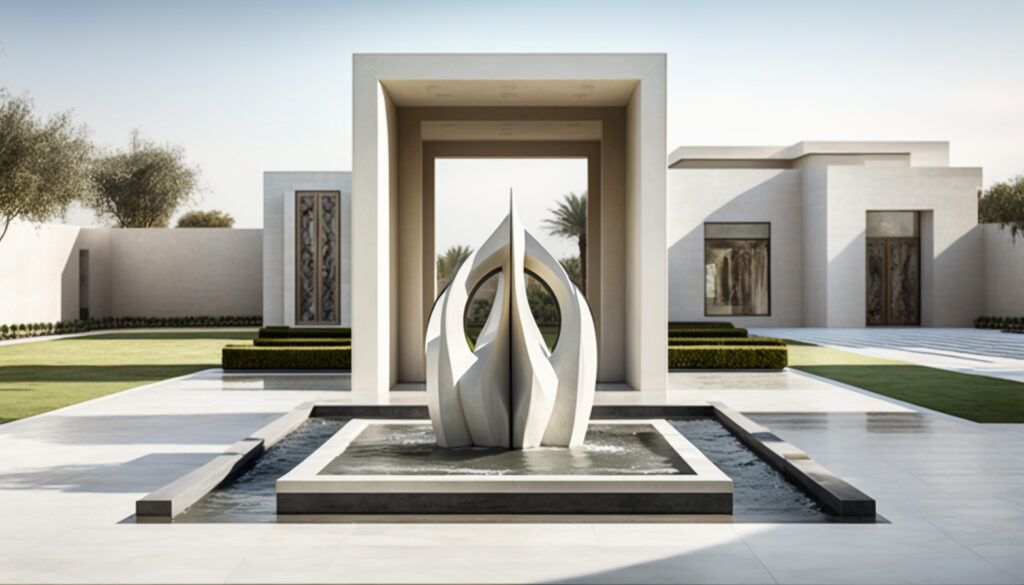 Tropical Limestone Fountain Driveway
If you live in a tropical climate, then a limestone fountain driveway might be the perfect choice for you. Limestone is a versatile material that blends seamlessly with lush greenery and tropical flowers. Its warm, neutral colour complements the natural surroundings and creates a tranquil and calming atmosphere.
Mediterranean Travertine Fountain Driveway
If you're looking to create a Mediterranean-inspired look, then a travertine fountain driveway is an excellent choice. Travertine is a type of limestone that has been used for centuries in Mediterranean architecture. Its warm, earthy tones and rustic texture create a timeless look that will transport you to the Mediterranean every time you pull into your driveway.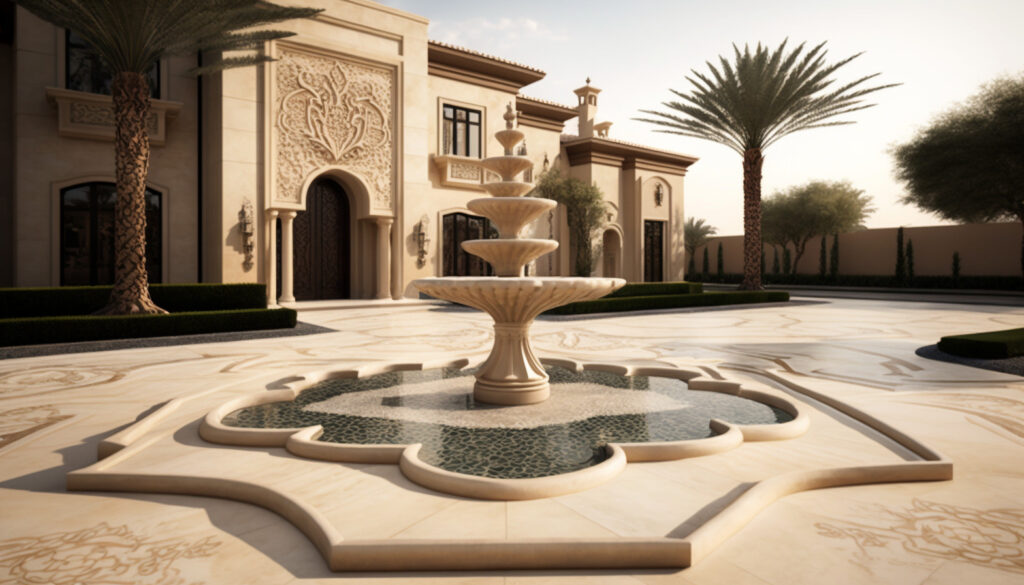 Your driveway is the first impression your guests will have of your property, and incorporating a luxury fountain can elevate that impression to the next level. Whether you prefer a classic marble look, a rustic sandstone feel, or a modern stainless steel aesthetic, Marblising can custom-make a luxury fountain driveway that is perfect for your property. Contact us today to learn more about our natural stone products and how we can help you create the driveway of your dreams.