October 20, 2023 Author: Michelle Simpson
Handling Giants: The Essential Guide to Moving Massive Sculptures and Statues
Have you ever thought about the herculean task of moving the massive sculptures you see in museums and public places? While shifting homes is challenging, transferring colossal art pieces is on another level! Whether you're a proud owner or an architect charged with their relocation, knowing the ropes of this monumental endeavour is a must. Ready for a deep dive?
Prepare for the Move
Importance of Pre-Planning
Think of this as preparing for a major trip. Without a plan, you're bound to hit bumps. Making a checklist and a timeline keeps you organised, ensuring every aspect gets attention.
Cataloguing Your Collection
Just as we snap pictures of our belongings before a move, cataloguing your art pieces—noting dimensions, material, and any vulnerable points—is vital. It helps movers understand what they're handling, ensuring tailored care.
Get the Right Equipment
Specialised Moving Tools
Using everyday tools? That's like using a sledgehammer to open a nut! Your statutes require specialised equipment, from lifting straps to skid boards. Investing in or renting these is non-negotiable.
Safety Gear and Precautions
Remember, safety first! Helmets, gloves, and other protective gear protect both you and your cherished pieces. Why learn the hard way?
Hire Professional Movers
Experience Matters
Would you let a newbie handle your treasured sculpture? Professionals with prior experience handling art are invaluable. They bring expertise, ensuring your art's safety.
Vetting Movers
Don't just go by the ads or fancy trucks. Check reviews, ask for references, and ensure they have the necessary licences. It's your masterpiece on the line, after all!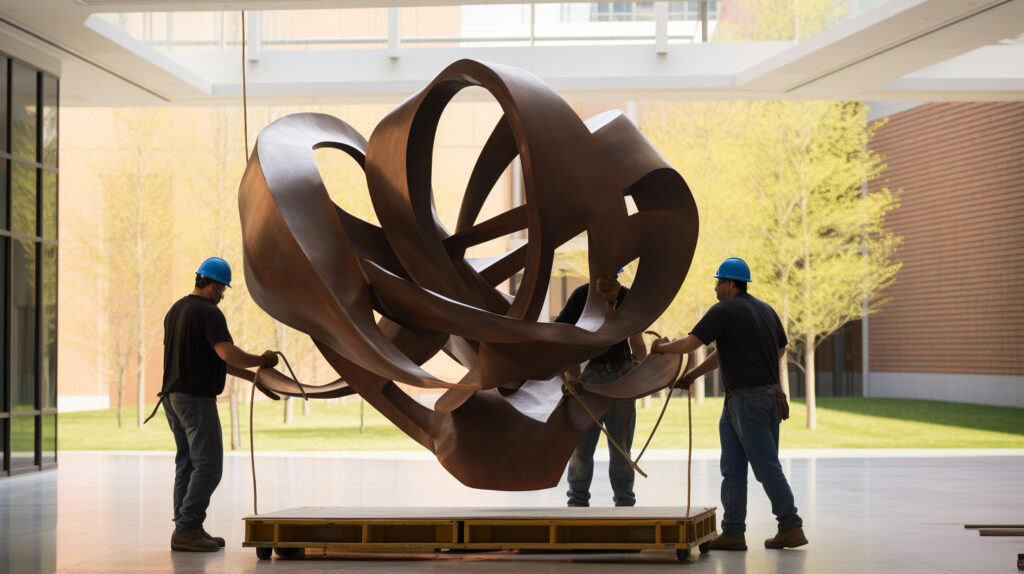 Ensure Adequate Insurance Coverage
Importance of proper coverage
Accidents happen. And while we hope they don't, insurance is your safety net. It's not just about covering breakages but also potential damages during transit or installation.
Evaluating Sculpture Value
For insurance, you can't just pull a number out of a hat. Get a professional valuation of your sculpture. It ensures you're neither over-insured (wasting money) nor under-insured (risking losses).
Packing and Crating
Material Selection
Bubble wrap or foam? The materials you choose can literally make or break your move! Opt for durable materials that cushion and protect.
Secure Packing Techniques
Ever played Tetris? Think of packing like that game, but with higher stakes. Every piece should be snug, avoiding shifts during movement. It's the difference between a safe arrival and a tragic break.
Loading and Transportation
Vehicle Requirements
A sedan for a 6-foot statue? Dream on! Depending on your sculpture's size and weight, you may need specialised vehicles or even cranes. Plan ahead!
Transport Best Practices
Route planning, climate considerations, and speed limits all factor into safe transit. Remember, slow and steady wins the race here.
Unloading and Installation
Safely Positioning Your Sculptures
Once at the destination, it's not just about dumping the statue. Consider aesthetics, safety, and environmental factors when placing it.
Ensuring Stability
A wobbly statue is a disaster waiting to happen. Ensure your pieces are stable; anchor them if necessary. Safety first, always!
Caring for Your Sculptures and Statues Post-Move
Maintenance Tips
Your statue's journey doesn't end after moving. Regular cleaning, dusting, and sometimes even professional maintenance ensure it remains in pristine condition.
Protecting Against Environmental Factors
Whether indoors or outdoors, sculptures face threats from humidity, sunlight, or pollutants. Using protective layers or coatings can be a game-changer.
Handling giant sculptures might feel daunting, but with meticulous planning, the right equipment, and seasoned professionals, it becomes manageable. After all, these artistic giants deserve the best care, don't they?
Check out our curated collection of natural marble products including sculptures, fountains, planters, mantels, benches and more at https://marblising.com/