$

3,200.00
DIMENSIONS
L 80 CM | W 80 CM | H 60 CM
L 31 IN | W 31 IN | H 24 IN
WEIGHT: 600 KG | 1320 LBS
L 80 CM | W 80 CM | H 60 CM
L 31 IN | W 31 IN | H 24 IN
WEIGHT: 600 KG | 1320 LBS
---
$3,200.00
See your custom request in your enivronment with AR

Get 3D models in ratio

Ensured global shipping and tracking delivery (in 60 days)

Customization to truly unique products
See your custom request in your enivronment with AR

Get 3D models in ratio

Ensured global shipping and tracking delivery (in 60 days)

Customization to truly unique products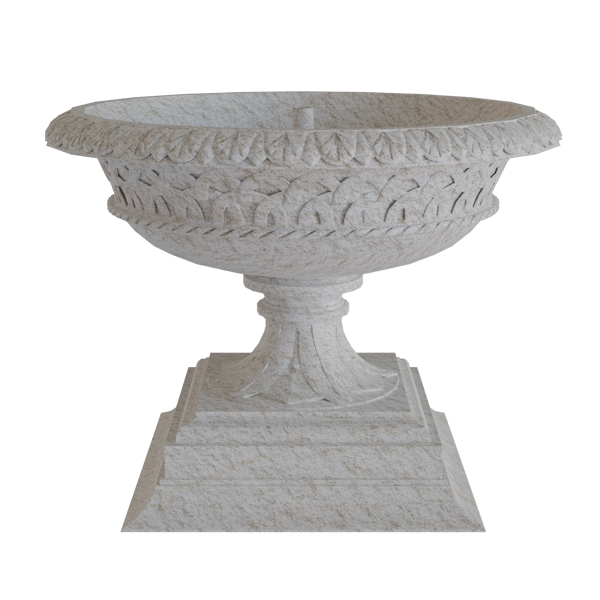 Description
The beautiful natural marble urn that forms this serene fountain is ornamented with a classic egg and dart trim on the lip, followed by an intricate weave pattern on the body, and an elegantly decorated stem that is placed on a tiered pedestal. This fountain adds a touch of elegance to your landscape; it elevates its surroundings and provides a vibrant sense of moving water to indoor and outdoor settings. Use this fountain in your garden, terrace, or conservatory to add an opulent touch.
Dimensions
L 80 CM | W 80 CM | H 60 CM
L 31 IN | W 31 IN | H 24 IN
600 KG / 1320 LBS
Product Technique
Artist carved marble sculpting
Care Instructions
Dust with soft, dry cloth. Avoid acidic cleaners.
Request Additional Information