May 26, 2021 Author: Admin
The Ever-lasting Trend of Marble in The Modern World
There is no doubt that Marble is the best choice when it comes to interiors.
There is a wide range of designs and types of marble. It has indeed evolved over the years. We can see intricate patterns and beautiful designs from the Eqyptian or Mesopotamian civilizations. The artisans and sculptors have done an extraordinary job.
Take Agra's Taj Mahal or London's Marble Arch, for example.
Earlier, the usage of marble was only limited to buildings, sculptures, floors, etc. But today, it is used for many purposes.
Let's now look at the notable trends of marble.
Marble with metallic accents:
This sounds interesting, doesn't it? Marble is one of the few materials that instantly conveys a sense of richness.
Metallic accents refer to a form of a neutral decorative element that has various uses. It can be visually pleasing when used creatively.
Since ancient periods, it has been valued and employed in both sculpture and architecture.
Silver is practically infallible among the famous metallic marble pieces as an accent, whether used in small or significant amounts. It goes well with whites and stands out against bright colors.
Plants and silver pillows add sparkle to the place.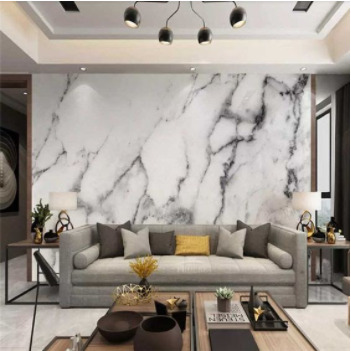 Marble Wallpapers and Coaster:
Yes, you read that right. Modern Marble has numerous trends and is still gaining prominence.
When it comes to interior design, people prefer having marble with distinct designs as their wallpaper as it glows up the living room with its uniqueness.
Marble wallpaper adds an aesthetic look to the place. Many different pieces of furniture also go along with marble wallpapers.
Talking about coasters, people prefer marble coasters as the set of coasters differ from one another in terms of patterns because no two slabs of marbles are the same.
These coasters won't soak up water like Thirstystone, and other materials do.
Damp glasses may slide about on the marble, but they'll work great with mugs.
Marble with fluted finishes:
Fluted finishes refer to the waves that undulate out from the center of each tile, flowing from one to the next. They are inspired by the channels carved vertically into traditional stone (fluted) columns but inverted.
Perforated marble finish surfaces are a visual and tactile delight that adds a contemporary edge to any bathroom décor. Delicately ribbed surfaces on vanity units and cupboards add subtle appeals. Do have a look at it!
Marble Impressions:
The natural vein pattern has gained immense popularity over the years. There are many other types of impressions that people widely use, especially for marble floors and interiors.
Like for example, ornate prints, this beautiful marble floor design draws shades from the environment and serves as an enticing focal point in the foyer.
Then, there is the nebulous allure, straight-lay marble tiles with veiny patterns that give drama and visual interest to the clean-lined drawing-room.
Herringbone patterns in striped marble are becoming increasingly fashionable.
Marble Serveware:
Wow! Look how far Marble has come!
Marble was used only in art and architecture, then it gained popularity and was used in interior designing of halls, living rooms, and more.
Today, there are Marble utensils, trays, plates to serve, and they all come in different sizes, shapes, and designs.
Marble is a solid, hard stone; it is easier for heat to pass from a warmer object.
Marble Lamps:
Another exciting trend of Marble is Marble lamps. Interestingly, it can help reduce heat on the outer surface of the lamp as there might be excessive heat due to the overuse of the light or more.
Modern Marble is used rigorously by a lot of people all over the world.
If you wish to decorate your house with Marble and give it that fantastic look then visit Marblising.com to check out our extensive list of Marble pieces that you can customize.
What are you waiting for? Hurry!!