July 7, 2021 Author: Admin
The Statue of Discoblus: A Masterpiece of Myron
"Artists don't create a society; they reflect it." – Ben Elton.
And nobody did this better than Ancient Greeks!
Innovations in painting, decorative arts, temples, sculptures, and architecture, exhibit their culture and heritage beautifully.
Besides, Ancient Greek art emphasized the importance and celebrated the accomplishments of human beings.
Sounds interesting!
So let's dive a little more into the world of Greeks and Nazis.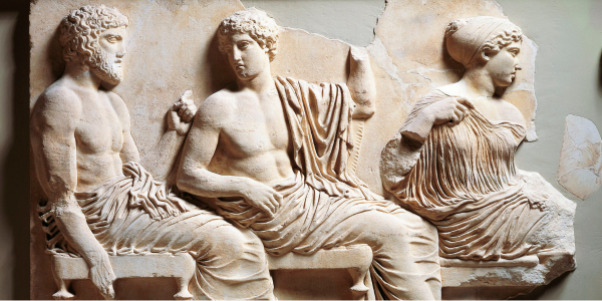 Even The Roman emperor, Hadrian, was so smitten with Greek culture that he earned the nickname 'Greekling' or 'Graeculus.' He embellished his sprawling Villa at Tivoli east of Rome with reproductions of eminent Greek artworks.
But in the 20th Century, the afterlife of Ancient Greek art took a different turn altogether.
Confused?
Don't fret!
To understand what we meant, try watching the famous opening sequence of Leni Riefenstahl's two-part film Olympia which documented the Berlin Olympics, otherwise known as the "Nazi Olympics."
During the Nazi Olympics, various esteemed Ancient sculptures were offered up as ideals of artistic prowess and beauty. But to everyone's surprise, a statue of a stooping athlete preparing to hurl a discus caught the limelight.
To connoisseurs of Ancient art, this is known as the Discobolus.
Let's understand a bit more about Discobolus, shall we?
"Discobolus of Myron," the most celebrated statues from antiquity
Discobolus is remembered as the personification of strength, equilibrium, and athletic beauty.
But who created this statue?
Well, the answer is Myron!
Myron was a renowned sculptor born in the early fifth century BCE, he was extremely good at sculpting God-like figures, animals, and athletes as his subjects.
Myron was best known for "Discobolus."
Now you must be wondering why this statue gained so much attention and appreciation!
The "Discobolus" in particular was considered a masterpiece with an impressive symmetry reflecting a honed body and a sharp mind. Myron innovated his artwork by capturing an athlete mid-action.
Here are some reasons that made "Discobolus" stand out!
Familiarity:
The "Discobolus's" shape appears to be aesthetically familiar to Romans as the Statue of Liberty to us. It was evident because it could be found in homes like Hadrian's and public baths, like the Baths of Caracalla in Rome.
Today Myron's sculpture is known via various Marble replicas, including the 'Townley Discobolus' in the British Museum.
The version of the sculpture that captivated Hitler was another replica known as the 'Lancellotti Discobolus,' named after the Italian family that once owned it.
However, Hitler was not the first political leader to view Greek art as a powerful status symbol. Even Napoleon was fascinated with the Venus de Medici.
Antique's Roadshow:
In 1930, the Lancellotti family fell upon hard times and offered the statue for sale. Initially, they reserved the sculpture for the Metropolitan Museum in New York, but the original price of eight million lire was deemed high.
By 1937, Hitler had made known his interest in the statue, and the following year, despite initial misgivings on the part of the Italian authorities about exporting it, the Discobolus was sold to him for the colossal sum of five million lire.
Marble statues are really something, aren't they?
Whether it is the "Venus de Medici" or the "Discobolus," the history of these sculptures is just enthralling.
So are you planning to adorn your living space with a classic Marble sculpture?
We at Marblising provide you with a wide range of customizable products.
Head over to our website now!