Posted on: April 21, 2021
Sculptures are the oldest form of art known to humankind. Carved out of stones, wood, bronze, or any other material, these sculptures convey messages to their viewers, be it social, historical, or spiritual embedded in class, beauty and art.
Before we dive deep into the topic, close your eyes and think of a sculpture. What's the first image that pops up in your head?
Was it Michelangelo's iconic David statue, Rodin's The Gates of Hell, or Donatello's Saint George?
(For me, it's always 'The Veiled Virgin' by Giovanni Strazza.)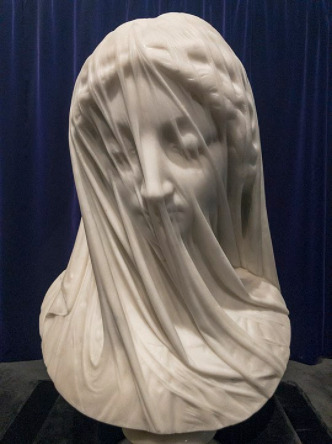 We have all read about them or their work at some point in life. There's no question that sculptors like them are the greatest of their generations.
They created art that influenced and inspired generations that followed.
Every piece of their work left spectators amazed and thinking, "How the heck did they do that?".
Similarly, each generation has witnessed great sculptors who shaped a different meaning to art.
Whether it was through ancient crafting techniques or using the latest carving machines, these sculptors have defied the limits of art with their work.
But let's not confine this art of sculpting to just these universally known sculptors.
What about our generation? Do we have artists that are defining the true meaning of art every day?
Let's see!
So, without any further ado, let's chisel our way to look at the sculptors who are breaking the boundaries of art in the 21st century.
10. Damián Ortega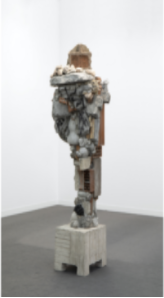 Damian Ortega is a contemporary artist from Mexico known for his versatile form of sculpting.
He can literally take anything and make sculptures out of them.
From Volkswagen Beetle cars, holiday posters to local corn tortillas; He has transformed everything into art.
His works emphasise the hidden poetry of everyday things and their deep social and political meanings.
According to him, "we cannot find meaning in art in singular forms but the relationships between multiple items."
(we're convinced that if life gives him lemons, he can make something spectacular out of them.)
9. Antony Gormley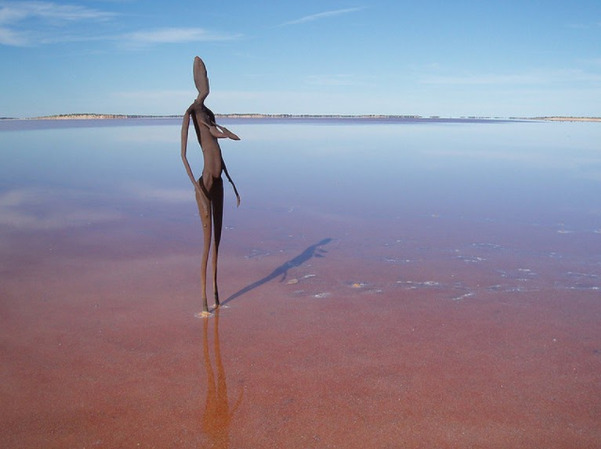 Antony Gormley is a British sculptor whose art explores the space we inhabit both within and outside our bodies.
You can find Gormley's sculptures in specific locations worldwide, as the piece's site is as significant as the piece itself.
Some of his renowned works are "Angel of the North", a contemporary public sculpture built in February 1998 in Gateshead, North East England;
"Another Place", a modern sculpture placed on Crosby Beach near Liverpool, "Event Horizon", a large-scale public sculpture installed in London in 2007.
8. Lynda Benglis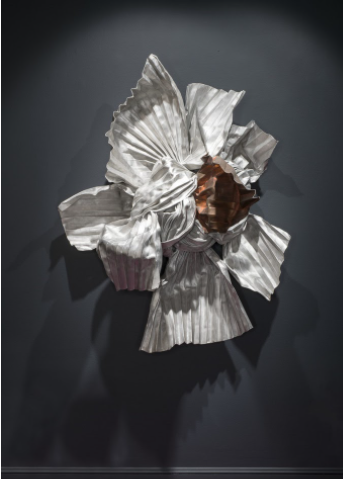 Lynda Benglis is a sculptor and visual artist from the United States, best known for her wax paintings and poured sculptures.
Lynda is a pioneer of free-form sculpture called "pours," which is similar to paintings but came off the wall to occupy the sculpture's space.
Since the 1960s, Lynda's work has dealt with the physicality and material-based practices while also questioning femininity in a male-dominated art world.
"It all comes from my body. My work is an expression of space. What is the experience of moving? Is it pictorial? Is it an object? Is it a feeling?" Lynda's exclaims when asked about her art form.
7. Anish Kapoor
Anish Kapoor is a British-Indian sculptor who works primarily in installation and conceptual sculpture.
For nearly three decades, Anish Kapoor's sculpture has dominated contemporary art.
He is known for using negative space and voids in his work, either through holes in materials such as stone and red wax or metaphorically, as with Cloud Gate, the reflective "bean."
Cloud Gate is generally regarded as his most famous work and his first permanent public outdoor work in the United States.
6. Tara Donovan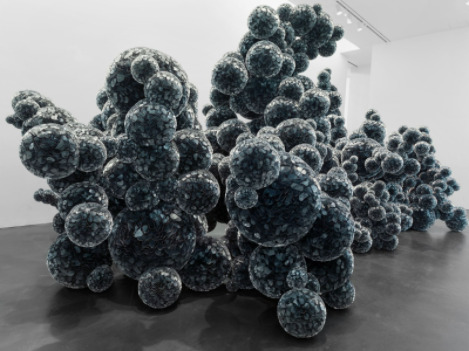 Tara Donovan is a well-known contemporary American artist who specialises in site-specific installations.
She produces shapes that resemble biological masses using disposable materials such as scotch tape, toothpicks, drinking straws, and styrofoam cups.
"It is not like I'm trying to simulate nature. It's more of a mimicking of the way of nature, the way things actually grow,".
–Tara Donovan
5. Marc Quinn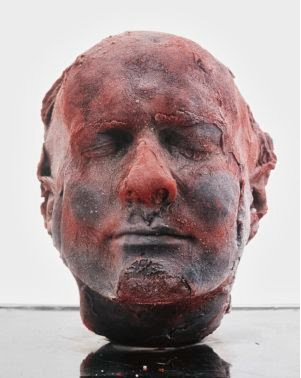 Marc Quinn is a contemporary British artist recognised as a member of the Young British Artists, which was started in London in the late 1980s.
He progressed to become one of the most influential artists of his time.
Quinn is best known for his explorations of the human form using abstract imagery and unusual materials.
His most famous art is from a self-portrait series called "Self" that consists of sculptural busts created from the artist's own frozen blood.
(He literally put blood, sweat, and tears in his art.)
4. Rachel Whiteread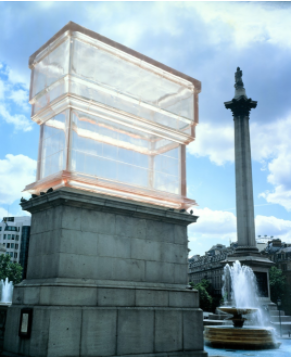 Rachel Whiteread is a contemporary English sculptor best known for her concrete sculptures, architecture, and artifacts.
Whiteread's sculptures are associated with the negative space between humans and the environments in which they live.
"I make all this stuff in the studio, but I also work on these white elephants—like House or Untitled Monument—things that are incredibly ambitious, take an awful long time to do, involve a lot of controversy, an awful lot of people, and don't make any money particularly, but it's just because I need to make them,"
–Rachel Whiteread
3. Kiki Smith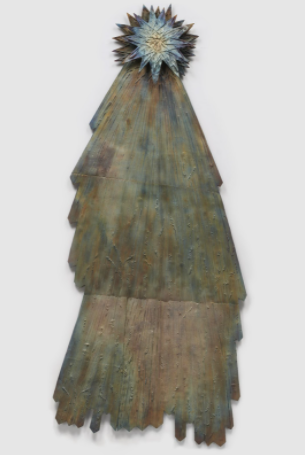 Kiki Smith is a West German-born American artist best known for her figurative depictions of mortality, adversity, and sexuality.
Smith, who has a particular obsession with the body and bodily fluids, often studies excreta such as blood, sperm, and bile in meticulously made surrealist sculptures.
Her work from the late 1980s and early 1990s addressed issues such as AIDS and gender. However, her more recent works have explored the human condition in relation to nature.
"I always think the whole history of the world is in your body,"
–Kiki Smith
2. Richard Serra
Richard Serra is an American sculptor best known for his extensive abstract steel sculptures, whose substantial presence causes viewers to engage with the physical qualities of the works and their specific locations.
Serra's swooping architectural curves, which are often intimidating in scale, often trigger dizziness and disorientation as viewers walk through their winding corridors.
(It's confirmed. Richard is a steel-bender.)
1. Jeff Koons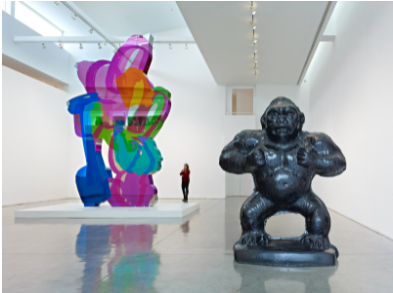 Jeffrey L. Koons is a famous American artist best known for his work dealing with bright and shiny sculptures, such as balloon animals made of stainless steel with mirror-finish surfaces.
Some consider his work to be groundbreaking and historically significant. In contrast, others think the opposite.
Koons has confirmed that his works contain no hidden meanings or criticisms.
The artist says, "I try to create work that doesn't make viewers feel they're being spoken down to, so they feel open participation."
Note: We have an entire article dedicated to Jeff Koons and his work. Read more about it here. (link to the other blog)
Conclusion
We are here to pay homage to these artists, celebrate their work, and their artistic visions on World Art Day.
If you're a sculpture enthusiast or a sculptor yourself looking for an online portal that can mould your ideas into reality, you have come to the right place.
At Marblising, you are the sculptor. You can tell us how to shape your sculpture, and we'll do it according to your requirements. No questions asked!
Dial us on +971 55 2468 000 to get started!