April 19, 2022 Author: Admin
Top 5 Places to Install a Large Outdoor Marble Fountain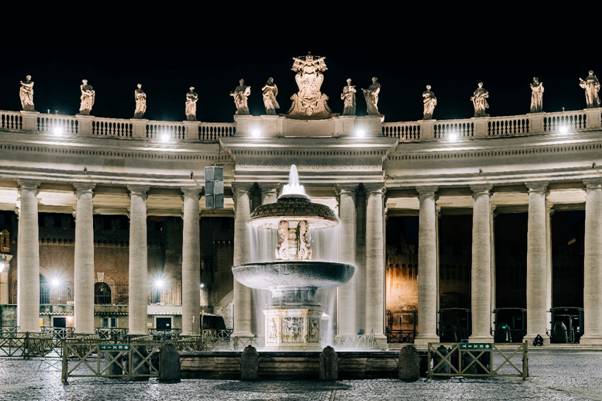 There are many ways to elevate the charm and beauty of your property.If you don't happen to have a meandering stream in your yard, a marble fountain is a brilliant way to add the pleasing sights and sounds of flowing water.
Not only does a marble fountain transform your exterior into a relaxing treat, but it also lends a touch of elegance—adding just the right depth and dimension to the outdoor landscape.
Large-scale marble fountains make for stunning features in residential design, but they're also equally great for bringing much-needed flair to commercial properties and public spaces like parks.
If you're looking to design the outdoors with a new decorative water feature and wondering about the best spot to place it, here's a list of the top 5 places to install a large outdoor marble fountain.
Circular driveway
Need your front yard to look its best?The placement of a striking outdoor marble fountain to your circular driveway is a surefire way to make a lasting impression on all those who visit your home.
Having a statement marble piece can accentuate a mundane area into the most alluring feature and bring a fresh, new visually arresting look to your property from the street.
Marblising offers custom-made marble fountains that fit your individual style and increase your home's curb appeal.
Whether you fancy a regal fountain with a carved animal statue on it or a sphere design to create a lush, cool retreat, we can create any design to suit your unique taste.
Neatly planted borders and the right lighting will accentuate the beauty of your fountain—resulting in a strong, distinguishing centerpiece that complements the exterior of your home and becomes a welcome focal point.
Backyard gardens
Sited sympathetically, an eye-catching marble water fountain can make a bold garden statement and emphasize its design and blooming plantings throughout the year.
Ideally, both the garden and the marble fixture should become equal partners in creating a new, living, and artistic whole that wows the crowd.
Aside from instantly drawing the eye, a marble fountain cascading into a pool underneath provides a natural vibe amongst all the hard landscaping.
The secret to choosing a fountain design that fits best is to consider how much area you have to work with.If you have the luxury of space, spring for a super-sized style that makes a striking impact!
Public parks
There is nothing quite like a magnificent water feature to grace the public park landscape and wow visitors!
With green spaces spread throughout Dubai, an addition of a majestic marble fountain is a fantastic way to make the park a place for all to enjoy.
Not only does its beauty serve as an awe-inspiring art piece that enhances the surrounding landscape, but it also provides a beloved spot to cool down on a summer day and enjoy the view and sounds of gently flowing water.
And we are sure the smaller members of the family will be enthralled by calming trickle sounds of water and the sight of all the birds that enjoy a refreshing splash!
Commercial property
An attractive front yard is a guest's first impression of your commercial property, so why not make a welcoming grand entrance!
Adding a marble fountain injects all the pizazz any exterior setting craves, and its distinctive presence will draw in prospective customers, visitors, and employees who appreciate the sights and sounds of water.
Plus, a fountain will provide tranquil sounds that serve as camouflage for city sounds,traffic noise, and other nuances—making it a perfect feature for tenants or employees looking to enjoy lunch outdoors.
If you want to convey an image even inside a corporate courtyard, whether it be soothing or edgy, there are outdoor marble fountains that can speak to that.
A zen marble fixture perfectly suits a soothing exterior space, a dancing fountain translates a fun and playful message, while a minimalist geometric marble fountain is perfect for edgy and forward-thinking businesses.
At Marblising, we specialize in many different styles of marble fountains. From spheres and tiered to urns and wall fountains, there is something for you to fit the architectural style and natural contours of your building.
Memorial gardens
A grand-scale water marble fountain is a positive inclusion to a calming setting such as a memorial garden.
Visitors can enjoy the views and gentle sounds of water as they wander through the gardens.
Fountains also provide a peaceful, quiet spot to retreat to when you wish to reflect and remember your loved one.
Furthermore, because memorial gardens typically have a vast open landscape, there are numerous spots for the water fountain to be placed.
If the space allows, you can also choose to include a couple of large marble fountains to create a special place of calm.
When deciding on a marble water fountain to add to the memorial garden, we recommend keeping the idea of a sense of ease and tranquility in mind.
Ideally, you may want to go for a marble fountain that's tasteful and elegant in style.
Design your large outdoor fountain with Marblising
Designing a water marble fountain is much like crafting a work of art—it's sure to add a graceful aesthetic feature and enhance the landscaping style of your residential, commercial, or public property.
And now that we have shared the top five places to install a large outdoor fountain, it's time to find the right one.
From modern designs such as cascading marble fountains to sculptural water features, we can help you visualize and create your fountain dream from start to finish.