July 26, 2021 Author: Admin
Trending Marble Types You Should Know About
Which natural stone has always been and continues to be one of the most luxurious and valuable additions to the home?
Any guesses?
Did you think of Marble?
Well, we must say you have great taste and preference!
Marble is indeed one of the most elegant natural stones. The natural beauty of this stone makes it the best choice for home interiors.
From classic Marble flooring to sleek Marble countertops, there is something about this natural stone that speaks of elegance and value.
And if you are interested in infusing Marble into your living space but overwhelmed with the options available, experts at Marblising have got your back.
There are various types of Marble, each offering a distinct appearance and feel. We have prepared a detailed guide of the trending Marble types for you.
Carrara Marble:
Carrara Marble is a high-quality natural stone found in Tuscany and is extensively used by Italian designers. Also known as Bianco Carrara, it is a popular choice for fireplaces, washroom walls, or kitchen backsplashes.
Carrara being notable for its linear veins instantly adds a classic look to your living space.
Calacatta Marble:
Named after a location discovered near Carrara, Italy, Calacatta Marble is one of the most in-demand Marbles. Its grey veins and varying cracked patterns contribute to a unique landscape in your home.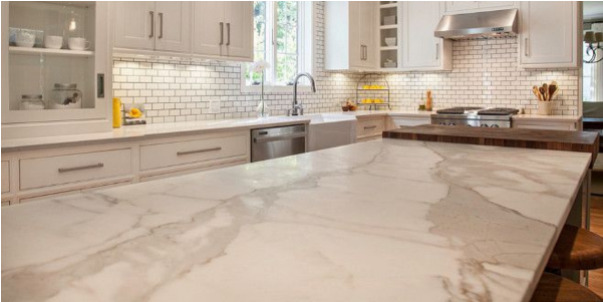 Believe us when we say it has the power to bring life to your room!
Sasso Rosso Marble:
This is a stunning, earthy red Marble quarried in Italy. It is a beautiful stone to decorate your home with.
So go ahead and add richness to your floors, walls, sinks, or pool edges with the exclusive looking Sasso Rosso Marble.
Domvrena Red Marble
:
Domvrena Red Marble is quarried in Greece and is the best option for countertops and sinks.
And if you have any plans to invoke some energy and liveliness into your home, we would surely recommend using Domvrena Red Marble.
Nero Portoro:
This stone features a light creamy brown and gold leopard pattern, appearing like a natural mosaic.
Each slab is unique and is used to embellish bathrooms and kitchens.
Dark Emperador:
This is a beautiful piece of stone and can elevate any living space. It looks like a polished piece of earth that can be used with any other color and bring a perfect look to a room.
Rosa Levante:
Rosa Levante is a solid pink color stone with a grainy texture. It is one of the most sought-after stones because it resembles fossils. Rosa Levante is quarried in Spain and is also known as Crema Levante.
Pink Spider Marble:
It's named after its dark red veins, darting across the pale pink background. Pink spider Marble is used for tiles, sinks, countertops, and backsplashes.
So if you are a fan of creamier pinks and traditional Marbles, pink spider Marble can be your go-to choice!
The subtle beauty of Marble has been brightening up living spaces for centuries.
Inspired enough to incorporate trending Marble types into your home?
Head to Marblising and check out our wide range of Marble products. We're also open to customization!