$

100.00
DIMENSIONS
L 220 CM | W 220 CM | H 82 CM
L 220 IN | W 220 IN | H 82 IN
WEIGHT: 200 KG | 200 LBS
L 220 CM | W 220 CM | H 82 CM
L 220 IN | W 220 IN | H 82 IN
WEIGHT: 200 KG | 200 LBS
---
View in 3D
$100.00
See your custom request in your enivronment with AR

Get 3D models in ratio

Ensured global shipping and tracking delivery (in 60 days)

Customization to truly unique products
See your custom request in your enivronment with AR

Get 3D models in ratio

Ensured global shipping and tracking delivery (in 60 days)

Customization to truly unique products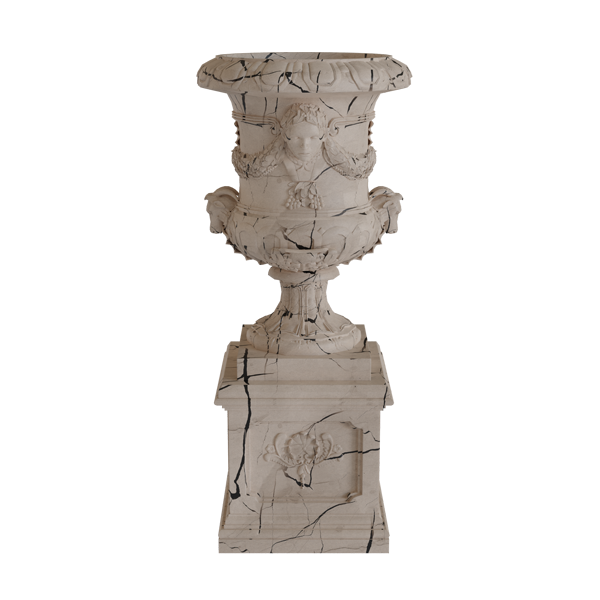 Description
This highly ornamented planter gives a sense of grandeur and elegance. The urn is embellished with two cherubs at the middle and two rams above the stem, which act as the main elements of visual interest on the planter, in addition to a plethora of embellishments of vines and leaves on the urn, complemented by an egg and dart trim on the lip, held elegantly by a ribbed stem, and placed on a pedestal decorated with floral motifs. This planter is perfect as a focal point in a courtyard or conservatory.
Dimensions
L 220 CM | W 220 CM | H 82 CM
L 220 IN | W 220 IN | H 82 IN
200 KG / 200 LBS
Product Technique
Artist carved marble sculpting
Care Instructions
Dust with soft, dry cloth. Avoid acidic cleaners.
Request Additional Information