$

100.00
DIMENSIONS
L 220 CM | W 220 CM | H 82 CM
L 220 IN | W 220 IN | H 82 IN
WEIGHT: 200 KG | 200 LBS
L 220 CM | W 220 CM | H 82 CM
L 220 IN | W 220 IN | H 82 IN
WEIGHT: 200 KG | 200 LBS
---
$100.00
See your custom request in your enivronment with AR

Get 3D models in ratio

Ensured global shipping and tracking delivery (in 60 days)

Customization to truly unique products
See your custom request in your enivronment with AR

Get 3D models in ratio

Ensured global shipping and tracking delivery (in 60 days)

Customization to truly unique products
Description
Encompassed between two elegantly ornamented handles, this classic planter sets a reviving tone to your indoor and outdoor setting. The hourglass-shaped bowl is cupped by scallops from the base and rises to the top with a lip etched with egg and dart trim. The urn is held by a narrow stem placed on a small square pedestal. This artifact is perfect as an individual piece on a patio or terrace, where the intricate embellishments can be fully appreciated.
Dimensions
L 220 CM | W 220 CM | H 82 CM
L 220 IN | W 220 IN | H 82 IN
200 KG / 200 LBS
Product Technique
Artist carved marble sculpting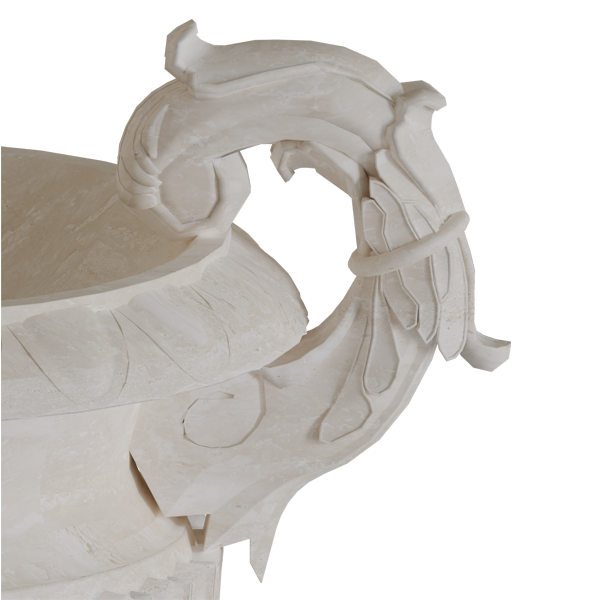 Care Instructions
Dust with soft, dry cloth. Avoid acidic cleaners.
Request Additional Information