$

11,000.00
DIMENSIONS
L 127 CM | W 43 CM | H 132 CM
L 50 IN | W 17 IN | H 52 IN
WEIGHT: 1500 KG | 3300 LBS
L 127 CM | W 43 CM | H 132 CM
L 50 IN | W 17 IN | H 52 IN
WEIGHT: 1500 KG | 3300 LBS
---
$11,000.00
See your custom request in your enivronment with AR

Get 3D models in ratio

Ensured global shipping and tracking delivery (in 60 days)

Customization to truly unique products
See your custom request in your enivronment with AR

Get 3D models in ratio

Ensured global shipping and tracking delivery (in 60 days)

Customization to truly unique products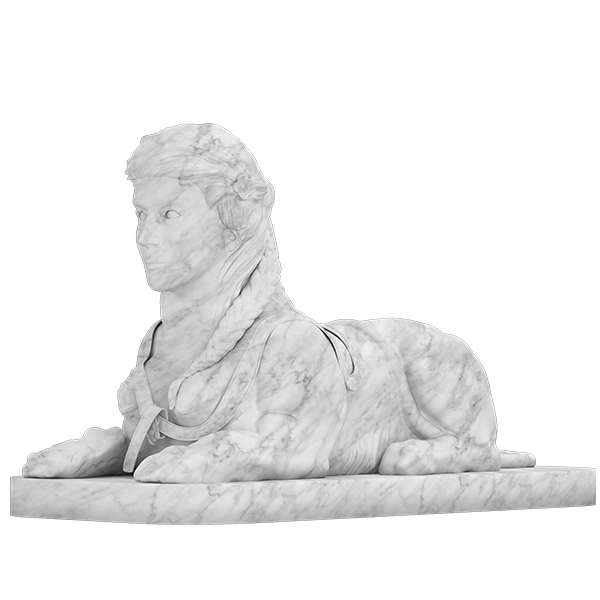 Description
One of the most celebrated of mythical creatures is the sphinx, half woman and half lion, here interpreted as a marble statue in the Greco-Roman style, finished with intricately carved features and hair. Place one or two of these beautiful custom statues at the gateway to a drive or entrance to a public or private building for a magnificent display.
Dimensions
L 127 CM | W 43 CM | H 132 CM
L 50 IN | W 17 IN | H 52 IN
1500 KG / 3300 LBS
Product Technique
Artist carved marble sculpting
Care Instructions
Keep the statue clean by regularly removing debris, such as leaves and twigs, from the surface. Use a soft cloth or brush to gently scrub the statue. Avoid using harsh chemicals or abrasive cleaners, as they can damage the marble. Dry the statue thoroughly after cleaning to prevent water spots.
Consider using a marble sealant to protect the statue from stains and scratches. Follow the manufacturer's instructions for application.
Handle spills immediately to prevent staining. Use a soft, absorbent cloth to blot the spill and avoid wiping, as this can spread the spill and cause it to penetrate the surface.
Avoid placing heavy objects on the statue, as this can cause the marble to chip or crack. Make sure the statue is placed on a stable, level surface to prevent it from tipping or wobbling.
Request Additional Information