$

100.00
DIMENSIONS
L 220 CM | W 220 CM | H 82 CM
L 220 IN | W 220 IN | H 82 IN
WEIGHT: 200 KG | 200 LBS
L 220 CM | W 220 CM | H 82 CM
L 220 IN | W 220 IN | H 82 IN
WEIGHT: 200 KG | 200 LBS
---
$100.00
See your custom request in your enivronment with AR

Get 3D models in ratio

Ensured global shipping and tracking delivery (in 60 days)

Customization to truly unique products
See your custom request in your enivronment with AR

Get 3D models in ratio

Ensured global shipping and tracking delivery (in 60 days)

Customization to truly unique products
Description
The beauty of this classic marble bench is timeless; it is fully covered in majestic embellishments; the legs are decorated with plants; and the front side of the trimmed seat is decorated with graceful feathery wings to match the two peacocks framing the bench from both sides and the elegant bas-relief carvings of beautiful peacocks, feathers, and leaves on the backrest. Two small urns anchor the ends of the backrest, which is further ornamented with scrolls. This bench is perfect for adding visual interest to your formal garden or terrace. Its weather-resistant material makes it perfect for any outdoor setting.
Dimensions
L 220 CM | W 220 CM | H 82 CM
L 220 IN | W 220 IN | H 82 IN
200 KG / 200 LBS
Product Technique
Artist carved marble sculpting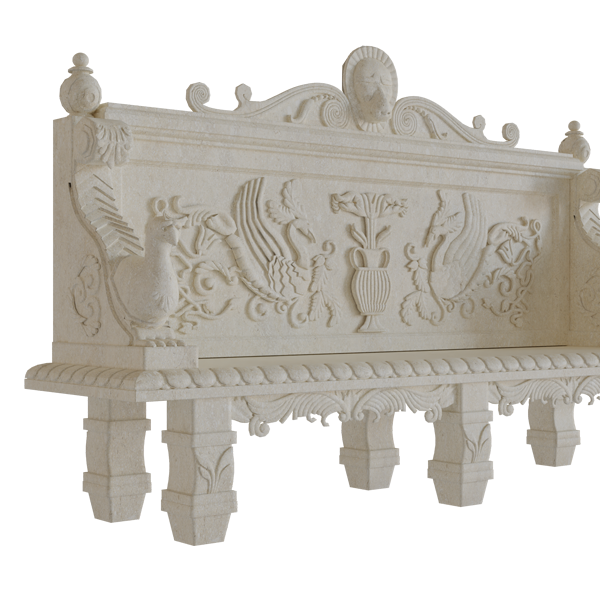 Care Instructions
Dust with soft, dry cloth. Avoid acidic cleaners.
Request Additional Information